BrandieB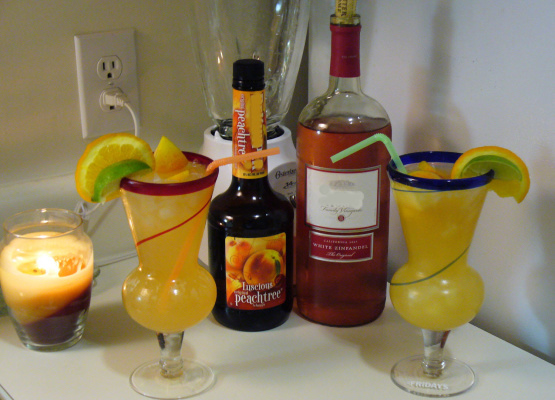 This is my adaptation of a drink served at Applebees. It is so easy and cheap. The recipe I wrote is for a single 10-oz drink, but feel free to adapt to make a pitcher (or two :-) The brands don't really matter but these are my personal preferences that I wanted to remember. And feel free to add whatever fruit you like! Best if served chilled of course!
2

ounces sutter homes white zinfandel wine

2

ounces dekuyper peach schnapps

2

ounces dole 100% pineapple juice (not from concentrate)

4

ounces sprite carbonated lemon-lime beverage
fresh peach slices (optional)
pineapple chunk (optional)
Mix all ingredients together. Stir. Pour in a glass. Garnish with desired fruit.
Put on your sunglasses and pretend you're at the beach :-).
Or better yet. Go to the beach!