White Lily Peppered Sour Cream Biscuits
Annacia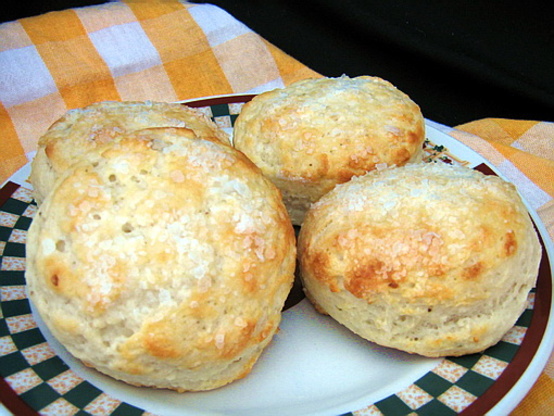 Presented By: Belinda Ellis, White Lily

Outstanding biscuits. I made 4 to go with a soup lunch today and couldn't be more pleased with the outcome. For us I did feel that the 1/4 tsp of garlic pepper was a bit weak for my preference and I added 1/4 tsp of Montreal Steak Spice which is mainly garlic and pepper. Yummm! The outside is golden and the inside is fluffy, light and delicious. To save on fat I used fat free sour cream, skim milk and for the butter I used 2 tbsp of canola oil with 1/4 tsp of butter extract added for the flavor. My 5 star rating is because of the sour cream and seasoning combo and the excellent adaptability of the recipe to personal needs.
Preheat oven to 450 degrees.
In large bowl, stir together all ingredients to form a ball.
On lightly floured surface, knead dough by folding dough in half 5 times. Pat or roll dough to 1/2 inch thickness.
With a biscuit cutter, cut into 3-inch rounds. Place on baking sheet coated with Crisco no-stick cooking spray. Brush with additional melted butter, if desired.
Bake 13 to 15 minutes or until golden brown.