White Lasagne With Parmigiano Besciamella (Lasagne in Bianco )
Parsley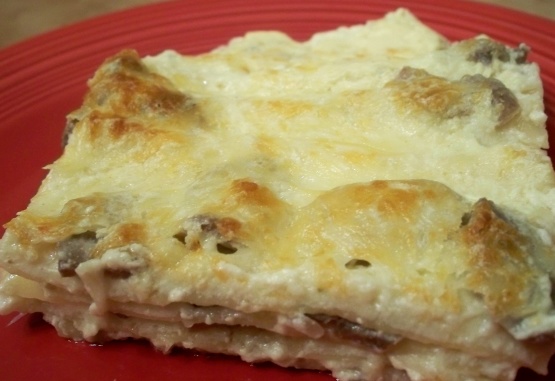 From Gourmet magazine, posted here for safe keeping.

I just made this. I used barilla no- boil lasagne noodles and I skipped the wine, substituted onions for shallots and added chopped spinach and 4 cloves chopped garlic to the sauce as well as a bag on coarsly chopped califonia blend veggies. I also added more cheese. It is very good. Mushrooms would have been good too!
Preheat oven to 350°F with rack in middle.
Cook shallots in butter in a heavy medium saucepan over medium heat, stirring occasionally, until tender, about 4 minutes.
Add flour and cook over low heat, stirring with a wooden spoon, 3 minutes. Add nutmeg, then slowly whisk in milk and stock.
Bring to a boil, whisking, then simmer, stirring occasionally, just until sauce lightly coats back of spoon, about 1 minute.
Remove from heat and cool to warm, stirring occasionally.
Stir in eggs, Marsala, sea salt, 1/2 teaspoon pepper, and 1/2 cup cheese.
Spread about 1 1/4 cups sauce over bottom of an 11- by 8-inch baking dish.
Cover with a layer of 3 lasagne sheets. Repeat layering 3 more times, then top with remaining sauce and remaining 1/2 cup cheese.
Bake, uncovered, until browned, 45 to 55 minutes.
Cooks' note: Sauce can be made 1 day ahead and chilled, covered (once cool).