White Gravy/ Sauce With Peas
Bobtail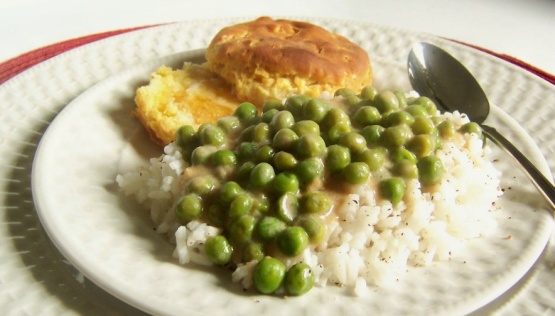 This white sauce is affectionately known as "Pea Gravy" in our house. Makes me smile & laugh every time I say it. I grew up on the stuff. It was always served over rice alongside Wienerschnitzle Ala Wolfgang Puck. Enjoy!

I made a half of recipe, except I did not halve the peas. I used frozen peas and followed the recipe as written. I had some leftover rice, which I reheated and spooned this over and it was quite good. I think next time I will add a bit more flour to thicken up the gravy even more and also would like some onions or even cheese for a bit more punch of flavor. It came together quite easily and I like the fact that the ingredients are easily kept on hand. Good comfort food on a cool and rainy day! Made for Easy Peasy theme in My 3 Chefs event. Thanks Chicagoland Chef de Jour!
2

tablespoons salted butter

2

tablespoons white flour, generous TBLS

1

teaspoon chicken bouillon seasoning, I prefer G. Washington Golden

2

cups milk, any type, maybe a bit less
1⁄2 cup frozen peas, not canned they tend to be too mushy
Over low heat, slowly melt the butter in a sauce pan. **I often let it get to the brown butter stage but you don't have to. I'm just mentioning this so that you know that it's ok and not burnt!
Add the bouillon, whisk, then add the flour. Continue whisking until completely incorporated. It will be thick and pasty.
Continue whisking and cook a bit longer to get rid of the raw flour taste. About 1 minute.
Over LOW heat, add milk, 1/2 C at a time continue to whisk while the sauce thickens. Slowly add another 1/2 C, whisk until creamy. Continue adding milk until it no longer thickens and it is creamy.
Add the frozen peas, allow to warm through, about 5 minutes.
Serve hot.