Hey Jude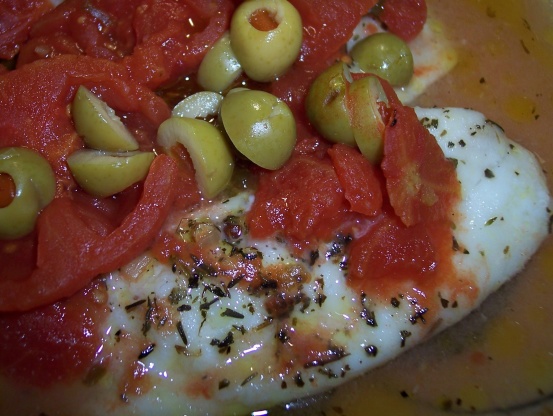 This recipe comes together easily and is tasty. I've used orange roughy and mahi mahi fillets with success. This is a revised recipe for health from the Saturday Evening Post: The Mediterranean Diet.
Preheat oven to 375 degrees.
Place fish fillets in a oven safe baking dish.
Drizzle 1-1/2 T Olive Oil over fish. Rub oil on both sides and Salt & Pepper.
Sprinkle fish with Onion and Garlic Powders, Basil and Thyme herbs.
Top with a 1-1/2 heaping T of Stewed Tomatoes per fillet
Pit and slice Olives into halves or quarters and sprinkle on top of tomatoes(Kalamata is delicious in this recipe).
Splash the tops of tomatoes & olives with White Wine and drizzle the remaining Olive Oil.
Bake with a foil tent for 15 minutes or until fish is white and flakey.