Ruby15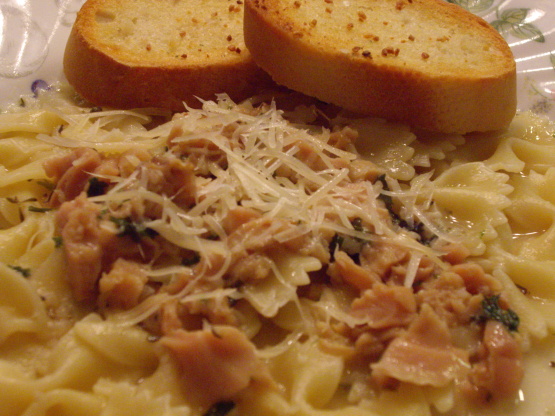 BE SURE TO HAVE CRUSTY BREAD ON HAND TO DIP IN THE WONDERFUL GARLICY BUTTER SAUCE. QUICK AND EASY COMFORT FOOD AT ITS BEST.

I also liked how this sauce sticks to the pasta-- no more puddles of sauce left on our plates after the pasta is gone!! Very tasty.
MELT BUTTER WITH OLIVE OIL IN LARGE HEAVY SKILLET OVER MEDIUM HEAT.
ADD GARLIC AND SAUTE ABOUT 1 MIN.
QUICKLY BLEND IN FLOUR WITH WIRE WHISK.
GRADUALLY STIR IN REMAINING INGREDIENTS.
COOK OVER MEDIUM LOW HEAT, STIRRING CONSTANTLY UNTIL SAUCE IS SLIGHTLY THICKENED.
PLACE COOKED PASTA IN INDIVIDUAL SERVING DISHES.
SPOON CLAM SAUCE OVER PASTA.
SERVE.
PASS GRATED PARMESAN CHEESE.