Kim127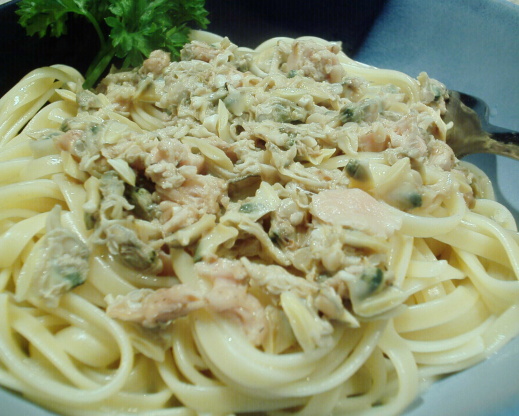 This is my own sauce, though I'm sure it is similar to many others. I usually use this with fettuccini, but it is excellent with black/squid ink pasta.

Top Review by Chauqg
Have made white clam sauce all my life - the standard white clam sauce. Was looking for something to use with black squid pasta tha our daughter brought home from Italy. This was a perfect match. The sauce is excellent prompting my family to save this recipe for other days, no doubt soon. I increased the garlic and did not remove it, just softly cooked it for a few minutes not the entire time. Garlic lovers will enjoy the great flavor of clam and garlic accented with soft garlic and perfect clams pieces. Served with Locantelli Romano cheese & fresh ground black pepper.... Thank you for your recipe. It is excellent!
Melt butter in heavy skillet over med/low heat.
Add whole clams with juice, and garlic. Cook over low heat until clams are heated through and edges begin to curl.
Remove clams. Add the bottle of clam juice, white wine and heavy cream. Cook about 10 min to reduce slightly. This sauce will be thin. You want a bit of broth in your dish.
Remove garlic cloves
Add clams back into sauce and toss with your preferred pasta. I usually use fettuccini
Note: I often like to add a chopped tomato to this sauce. You would add the tomato after the 10 min cooking time, just to warm the chopped tomato.