White Chocolate Truffle and Chocolate Fudge Layer Cake
Debber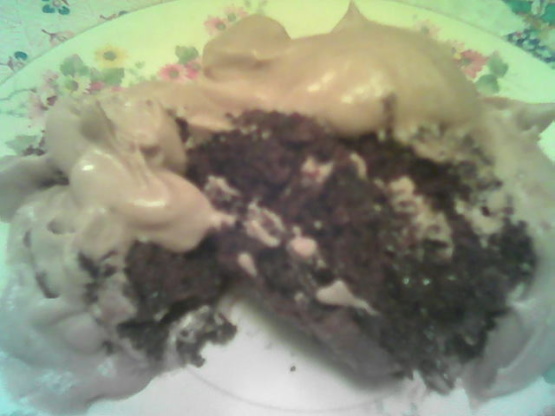 I found this in Bon Appetit magazine December 2002. I've made this for the past 2 new years eves and it's a big hit. It's well worth the time that it takes to make it. A thick layer of pure white chocolate truffle separates the amaretto-brushed layers, and a bit more truffle filling is used to flavor the whipped cream icing. For the chocolate stars, you can use 6 ounces bittersweet (not unsweetened) or semisweet chocolate, chopped

Top Review by Debber
Extremely rich with truffly cake, fudge filling, and whipped chocolate topping...what a HIT of chocolate! Yes!!! My cake didn't turn out at all the way I imagined it when I read the recipe, not your fault, I was in a hurry, my Kitchen Aid mixer died (last week), and what a pain to do all that mixing and beating my little hand-mixer!! Plus I didn't have enough time for all the chilling and cooling and waiting. The recipe should include the chilling time necessary, for proper planning! Ours was more like a pudding, but NO ONE complained (#4 son's 17th birthday). The boys were BEGGING for another piece. When/If I make this again, I would cut the filling and topping ingredients by half or at least one-quarter. Also, the cake batter over-flowed from the pans, causing a mess in the oven, didn't really set up (I had to bake 10 minutes longer than recipe suggested), so next time I would bake in a Bundt pan, invert and then cut the cake (bi-sect?) in half to add the filling. And next time I won't forget the amaretto (my favorite!---but I didn't think the kids would appreciate that flavor so much)!! Overall: luscious and sinfully decadent!
For chocolate stars:
Line baking sheet with foil. Stir chocolate and shortening in top of double boiler set over simmering water until melted and smooth. Pour onto prepared baking sheet, tilting pan to spread chocolate mixture to irregular 14x9-inch rectangle. Refrigerate until just firm, about 12 minutes. Spray assorted star-shaped cookie cutters with nonstick spray. Cut out stars. Refrigerate until firm, about 30 minutes. Using small offset spatula, carefully transfer stars 1 at a time to another foil-lined baking sheet. Refrigerate until ready to use. (Can be made 3 days ahead. Cover and keep refrigerated.)
For cake:
Preheat oven to 350°F Butter two 9-inch-diameter cake pans with 1 1/2-inch-high sides. Line bottoms with parchment paper; butter parchment. Stir unsweetened chocolate in heavy medium saucepan over low heat until melted and smooth. Cool slightly. Sift flour, cocoa powder, baking powder, baking soda, and salt into medium bowl. Using electric mixer, beat sugar and butter in large bowl until well blended. Beat in lukewarm melted unsweetened chocolate and vanilla. Beat in eggs, 1 at a time, blending well after each addition. Mix in cocoa powder mixture in 3 additions, alternating with milk in 2 additions.
Divide batter between prepared pans. Bake cakes until tester inserted into center comes out clean, about 35 minutes. Cool cakes in pans on racks 10 minutes. Run knife around edge of each pan to loosen cakes. Turn cakes out onto racks and cool completely. Peel off parchment.
For filling and frosting:
Bring 1 cup cream and butter to simmer in heavy medium saucepan over medium heat, stirring until butter melts. Remove from heat. Add white chocolate and stir until smooth. Whisk in vanilla. Pour 1 1/2 cups white chocolate filling into small bowl; cover and freeze until cold, about 2 hours.
Let remaining white chocolate mixture in saucepan stand at room temperature until lukewarm, about 20 minutes.
Using electric mixer, beat remaining 2 cups cream and almond extract in large bowl until peaks form. Working in 3 batches, fold in lukewarm white chocolate mixture. Refrigerate whipped cream frosting just until medium peaks hold, folding occasionally, about 3 hours.
Brush 2 tablespoons amaretto over top of each cake layer. Place 1 layer on platter. Spread chilled 1 1/2 cups white chocolate filling over. Top with second cake layer. Spread whipped cream frosting over top and sides of cake. Chill until cold and set, about 1 hour. (Can be made 1 day ahead. Cover and keep refrigerated.)
Arrange chocolate stars decoratively atop cake and serve.