White Chocolate Strawberry Loaf
Annacia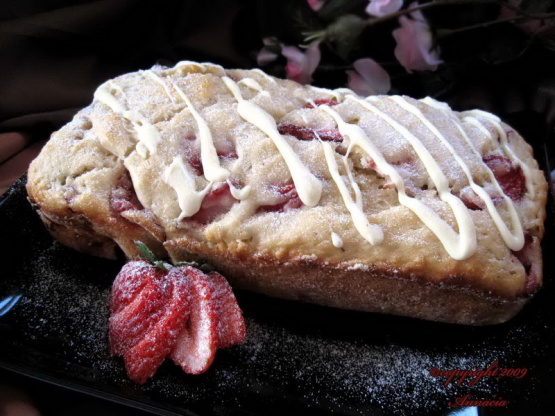 This is a wonderful way to take advantage of summer's best strawberries. I hope that you will all enjoy it. The strawberries need to sit in the sugar for hours to develop the juice so do plan ahead just a bit. I started the berries in the morning and made the loaf in the afternoon.

Top Review by Katzen
I love white chocolate, and I love strawberries (who doesn't!?), so this was a no brainer! So moist and tasty, too. I used organic Ontario strawberries, which were perfectly ripe in this - what a treat! I doubled the loaf, so it made a 9x5 loaf pan. Your tip about melting the white chocolate in a baggie is the best and most useful tip I've used recently - I'll definately use that often! Thanks Annacia, this is a great loaf! Made for PRMR Tag.
Sprinkle the sliced berries with the 2 tablespoons of sugar and put them in the refrigerator in a covered bowl for several hours or overnight to make them release their juice.
Preheat the oven to 350°F.
Mix the flour, 3/4 cup sugar, baking soda, and salt and 1 ounce of the chopped white chocolate in a large mixing bowl.
In a medium mixing bowl, combine the oil, vanilla, strawberry extract (if using) eggs, strawberry slices and the juice.
Pour the strawberry mixture into the flour mixture, and mix just until blended.
Pour the batter into a greased loaf pan (8 inches x 5 inches) and bake for approximately 40 minutes.
FINISH: When the loaf has cooled melt the remaining 1/2 ounce of white chocolate in a small plastic bag in the microwave (should take 15-20 secs). Cut a small hole in the corner on the bag and squeeze the chocolate onto the loaf in any pattern you like.