White Chocolate Pumpkin Dreams
CoffeeB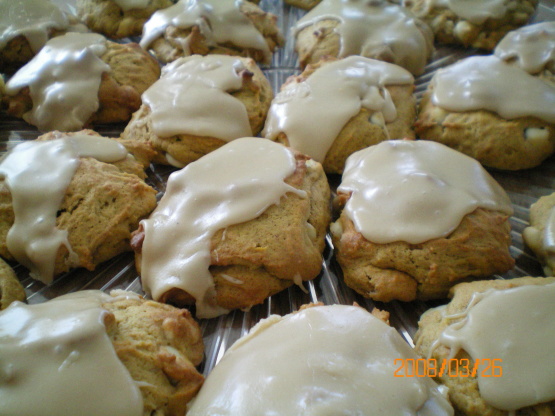 If you like pumpkin pie, you'll love these delicious pumpkin cookies dotted with white chocolate chips and chopped pecans. Drizzled with a brown sugar icing, they're irresistible

These cookies were not quite what I expected but they were excellent all the same. I had expected a flat cookie but I got a fluffy, dome-shaped cookies. I really liked both the cookie and the icing but the icing was a little too sweet for my taste. However, the browned butter and brown sugar mix did impart a nice flavour on these little bite-sized treats. I probably will not be making these often but that is simply because, while these are great cookies, frosted sweet cookies are not really my thing. I would, however, make them readily for someone who appreciates richer desserts.
In a mixing bowl, cream butter and sugars. Beat in egg, vanilla and pumpkin.
Combine dry ingredients; gradually add to the creamed mixture. Stir in chips and pecans.
Drop by rounded teaspoonfuls 2 inches apart onto ungreased baking sheets.
Bake at 350 degrees F for 12-14 minutes or until firm.
Remove to wire racks to cool.
For frosting:
Combine brown sugar and butter in a saucepan and bring to a boil; cook over medium heat for 1 minute or until slightly thickened. Cool for 10 minutes.
Add milk; beat until smooth.
Beat in enough confectioners' sugar to reach desired consistency.
Frost cookies.