White Chocolate Pecan Sheets
diner524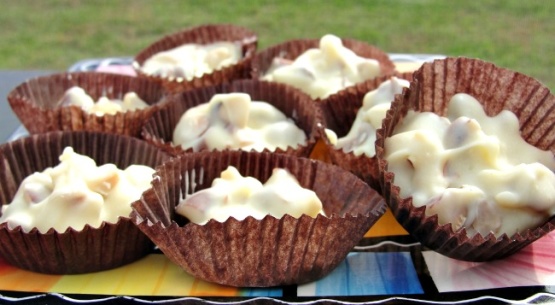 Another delicious-sounding recipe from my "I love Chocolate" cookbook. My friends and family are really in store for some delicious goodies this holiday season.
Wow is this a very easy recipe and makes some great candy!!! I made 1/4 of the recipe, as I am making so many goodies for the holidays, but might have to make another batch, lol!! I used roasted/salted almonds in place of the pecans, as I am the only one in the family that like pecans. I like white chocolate, but not as well as milk chocolate and was surprised by how well I like it. I did use a 4 oz. bar of Ghiradelli's white chocolate which worked out wonderfully. Thanks for sharing the recipe Nancy. Made for "Sweet December" event.
Line a cookie sheet with aluminum foil. In a double boiler melt the chocolate with the butter and oil over hot (not simmering) water, stirring constantly until the chocolate is melted and smooth.
Remove the top part of the double boiler and stir the nuts into the melted chocolate . Pour the chocolate mixture out onto the prepared cookie sheet. Spread randomly to the desired thickness. Refrigerate 20-30 minutes, or until set.
Slide a metal spatula under the chocolate to loosen from the foil. Break into uneven pieces . Store in an airtight container or in the refrigerator. Prep time includes refrigeration time.