White Chocolate Pecan Pie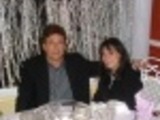 A twist on the traditional holiday dessert.
Directions
Postion rack in center of oven; preheat to 350 degrees.
Using an electric mixer, beat egg and egg yolk in a large bowl until light colored. Add brown sugar; beat until mixture forms soft ribbons when the beaters are lifted, about 5 minutes. Mix in both corn syrups, butter, vanilla, and salt. Stir in pecans and 3/4 cup white chocolate.
Transfer filling to prepared pie crust. Bake until filling is set and top is golden brown, tenting pie with foil if crust browns too quickly, about 1 hour. Transfer pie to rack to cool completely.
Place remaining 1/4 cup white chocolate top of double boiler. Bring water to boil in bottom of double boiler. Remove from heat. Set top of double boiler over bottom and stir chocolate until melted and smooth. Using a fork, drizzle the melted chocolate decoratively over the cooled pie. Serve pie at room temperature.
Most Helpful
Really a sweet pie, but then that's what a pecan pie is, SWEET! Loved the addition of the white chocolate! Easy enough to make, & a delight to eat! I did slice this one into 10 servings, & wouldn't even have minded getting 12 servings out of it, & will try that the next time I make it! A great keeper of a recipe! [Tagged & made in Please Review My Recipe]