White Chocolate Palettes With Dried Fruit and Nuts
mayness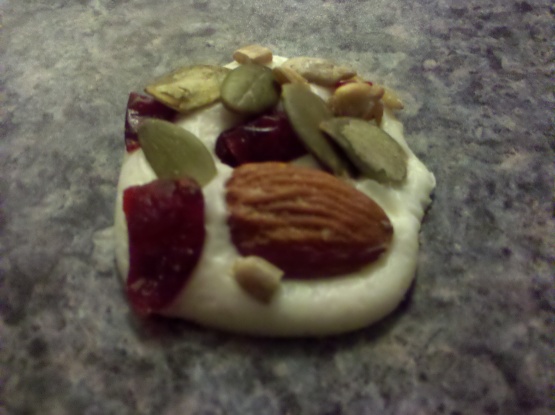 I make these for a Christmas platter. They are easy and very pretty. Not what you would usually find on a dessert tray. The cooking time is the chilling time.

This is beyond easy but comes out great - I think it'll be a new keeper for future Christmas gift baskets. I found a mix of fruit and nuts in my store's bulk section that had cranberries, golden raisins, pumpkin seeds, almonds, and sunflower seeds. It was lightly salted, which I think helps the flavor - I'd add salt if your nuts are unsalted. The green pumpkin seeds with the red cranberries look really festive! I used more than 1 tsp of chocolate for each and didn't bother flattening it out, which is why they look so thick in my (blurry) photo. I'm sure they'd be prettier the way the recipe is written but I like the "rustic" look.
226.79

g best quality white chocolate, finely chopped

29.58

ml toasted coarsely chopped almonds

29.58

ml coarsely chopped dried cranberries

29.58

ml toasted coarsely chopped pecans

2

dried apricots, cut into small pieces

29.58

ml shelled pistachios
In medium bowl, melt chocolate over simmering water until completely smooth.
Meanwhile, line 2 baking trays with parchment, set aside.
In small bowl, combine the remaining ingredients.
Drop about 1 tsp chocolate onto the lined trays. Continue until trays are full, then gently give trays a shake to round out the circles.
Dot each circle with scant tsp of fruit/nut mixture.
Place trays in fridge for 20 minutes.
Carefully remove palettes from trays and place in an airtight container for up to 7 days.