White Chocolate Oreo Cream Cheese Balls
Nora2909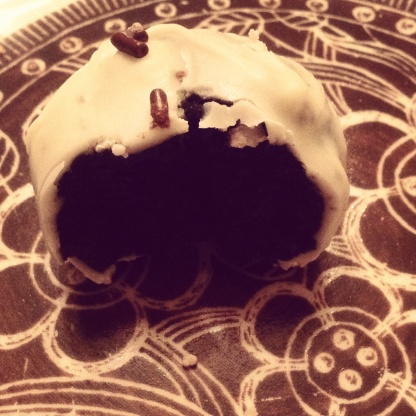 I think this recipe is very good it is also very simple. It came from one of my girlfriends. A tip is to swirl the oreo balls in the white chocolate and not dunk them in. You could also use milk chocolate instead of white.

I won a cook off with these. Thank you so much. Someone had made these at my son's preschool, so I came home and looked on here and found your recipe for them. I used almond bark instead of white chocolate and also made a batch of milk chocolate ones. Both were delicisous! Keep them super cold when serving. I might try using whipped cream cheese next time, just to see how they turn out. Thanks again!
Crush the Oreos with the blender until powder like.
Then hand blend the Oreo Powder and Cream Cheese.
Roll the Oreo and cream cheese into balls and set them on a plate and chill until solid.
Melt White Chocolate Chips in Double Broiler then dip Oreo Balls in White Chocolate then let set.