White Chocolate Iced Cranberry Bread
Annacia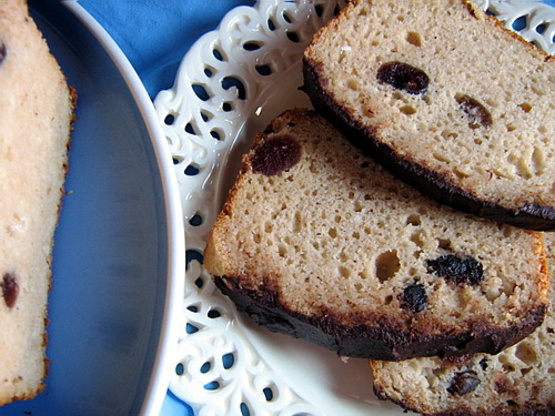 From the Cooking Light Message Board. Haven't tried it yet.

Excellent recipe. The measurements are spot on and it makes a loaf with a perfect texture. The changes I made were to use 1/4 cup sugar and 1/2 cup of Splenda, cherries in place of cranberries and dark chocolate only because I didn't have white. I didn't have enough icing for it to run down or I didn't thin it enough. Either way it's a delicious bread. Not too sweet and it invites you to take one more slice. It slices very well, it doesn't crumble or fall apart.
Heat oven to 350 degrees. Grease bottom only of 8x4 inch loaf pan.
In large bowl, combine flour, sugar, baking powder, baking soda and salt; mix well. Stir in cranberries.
In small bowl, combine 3/4 cup half and half, orange peel and eggs; beat well. Add half and half mixture, melted butter and orange juice to flour mixture; stir just until dry ingredients are moistened. Pour batter into greased pan.
Bake at 350 degrees for 50 to 60 minutes or until deep golden brown and toothpick inserted in center comes out clean. Cool in pan for 10 minutes. Run knife around edges of pan to loosen. Remove loaf from pan; place on wire rack. Cool 1 hour or until completely cooled.
In small microwave safe bowl, combine baking bar and 1 tablespoon of the half and half. Microwave on high for 30 seconds; stir until melted and smooth. If necessary, microwave an additional 10 to 20 seconds. With wire whisk, beat in powdered sugar until smooth. If necessary, add additional half and half, 1/2 tsp at a time, until of desired consistency.
Spoon and spread icing over cooled loaf, allowing some to run down sides.