KateL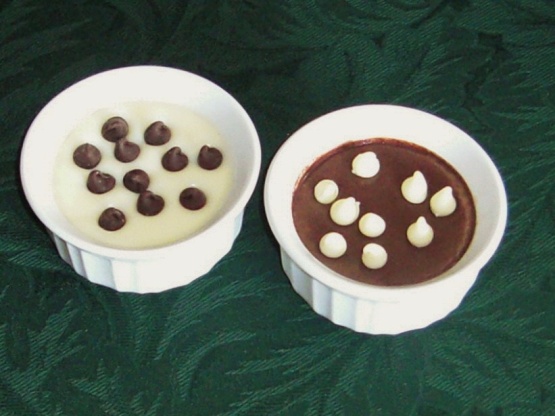 A delicious creamy custard which is as simple and quick to make as it is delicious! Ideal for chilly winter evenings, served with puddings or Danish pastries, or any time of year with apple pie, pecan pie - or other pies. Another recipe from the Simply Great Recipes Club website.

Top Review by KateL
3 Stars for now, my custard did not congeal, and I would not recommend making 2 kinds from the same batch unless you have a helper to stir in the chips right away. The lesson; not all substitutions are created equal. I had limited selection at my store, chose Junket Vanilla Custard; I used 1/2 skim milk and 1/2 heavy whipping cream. The Junket package spoke of various things that could interfere with the congealing of the custard. So from a different store, I purchased Jello Custard mix and whole milk, so I can test this again and update my review. The result still tasted good, although quite sweet; wouldn't one expect that if normal custard is sweet, and then chocolate chips are added? I added additional chocolate chips in contrasting colors for my photo. Made for 1-2-3 Hit Wonders.
In a small saucepan combine the custard powder with a little of the milk to form a smooth paste. Add remaining milk.
Stir over a medium heat until the custard begins to thicken, reduce the heat and simmer for 1 minute stirring continually.
Remove from the heat and stir in the white chocolate until all the pieces have melted.
Serve with Danish pastries, puddings or pies.
Notes: Replace the white chocolate for milk chocolate or dark chocolate!