White Chocolate Cranberry Loaf (Light)
Redsie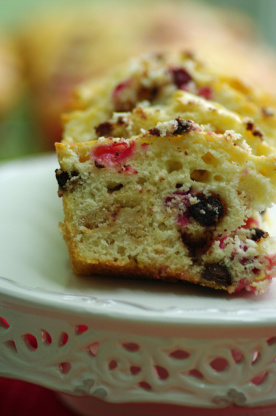 I found this recipe on the message board of Weight Watchers when I had just started WW a couple of years ago (I think it was posted by CrissyBear). I bake often but rarely do I use cake mixes - I made an exception for this recipe and boy was I glad I did! I have baked these often - for hostess gifts or Christmas gift baskets. Everybody loves the taste of white chocolate and cranberries! Can't wait to bake them again!

Very easy recipe to follow. I made this for my 2009 Holiday gift bags. I omitted the orange rind, subbed dried cranberries and lowered the temp to 325. I made them in small 6" paper gift pans, cooking 18 minutes then rotating the pans and cooking another 18 minutes. They turned out delicious and will now be a regular in our bags. Thanks for posting.
Preheat oven to 350°F.
Prepare 2 loaf pans with cooking spray.
Mix cake mix, flour, and orange peel.
Add egg, egg whites, water, orange juice, and applesauce.
Fold in white chocolate chips.
Fold in cranberries.
Spread batter evenly between the two pans. Bake for one hour or until a toothpick inserted in the middle comes out clean.