Annacia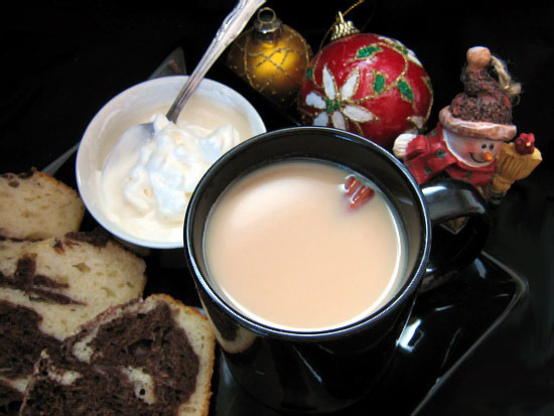 I found this on about.com for coffee. You don't always have to use dark chocolate when making cocoa. Hot chocolate made with white chocolate is particularly relaxing and smooth. This is a very creamy recipe.

Delicious and milky. I used Hershey's white chocolate chips and guessed the amount. I only had heavy cream so I used part of it for the half-and-half and mostly plain rice milk. For the coffee I used instant half caf!! Garnished like Annacia with a cinnamon stick which I added while heating and canned whipped cream and a little sprinkle of ground cinnamon. Made for Potluck Tag - Feb/Mar '10 For Studentchef's "Warm Me Up" party!
Heat the milk and chocolate together in a saucepan until melted and smooth. Stir in coffee and serve with whipped cream on top.