White Chocolate Chunk Muffins
ngdarlen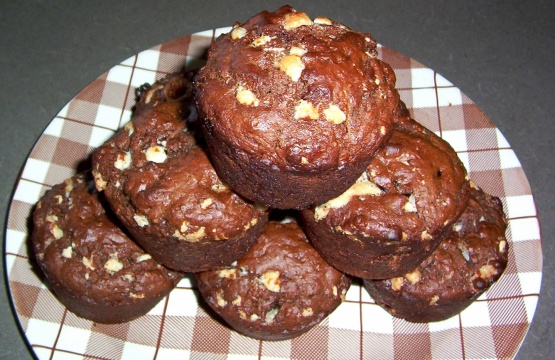 From my favorite cookbook, 'Gifts from the Christmas Kitchen'.These muffins are effortless to make and are delicious.Make a batch for yourself and another to give away,your recieptient will thank you!!

I tried this recipe for an afternoon snack. I didn't enjoy these very much. The batter was quite bland, and the muffins were not chocolatey enough for my taste. They may need some more cocoa powder and maybe need white sugar instead of brown, for a better flavour. This recipe has potential, so I may try this one more time, but it definitely needs some tweeking. Thanks for the submission.
Preheat oven to 400 degrees.
Grease 12 (3 1/2 inch) large muffin cups.
Combine flour,sugar,cocoa,baking soda and salt in a large bowl.
Combine buttermilk,butter,eggs and vanilla in small bowl until blended.
Stir into flour mixture just until moistened.
Fold in white chocolate.
Spoon into prepeared muffin cups,filling half full.
Bake 25-30 minutes or until wooden toothpick inserted in center comes out clean.
Cool in pan on wire rack for 5 minutes.
Remove from pan.
Cool on wire rack 10 minutes.
Serve warm or completely cool.