White Chocolate Cherry Blondies
Katzen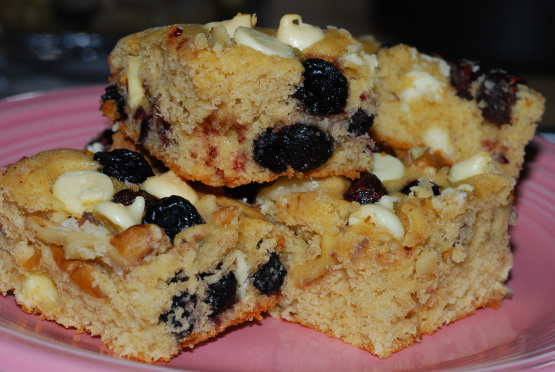 This is a takeoff of a Light and Tasty Recipe (Vanilla Chip Cranberry Blondies...I believe they are posted here as well). I am posting to keep note of the changes I made. Note: the egg sub makes these a little bit cake-like, so if you prefer a more dense blondie then you might want to use 2 eggs, or one whole egg and two egg whites.

Top Review by Katzen
These were different, and very good! I'll admit it, I was a little skeptical when I put them in the oven, as they didn't look like much - but they came out so pretty and smelling so good! I used mixed dried cherries, blueberries, and raspberries for this, and can't wait to try them with cranberries. I think almonds would be good for the nuts, too - these are very flexible blondies, and so quick to put together, too. Thanks, Smelly - your recipes always come through! Made for Veggie Swap 20, for my adopted chef, smellyvegetarian!
Preheat oven to 350.
In a large bowl beat or whisk eggs, oil, applesauce, and vanilla. Whisk in brown sugar.
Add flour, baking powder, and salt; stir until well blended. Stir in 1/3 c cranberries.
Spread in a greased 9 x 13 pan coated with cooking spray. Sprinkle remaining cranberries, white chocolate chips, and walnuts on top. Gently press toppings down.
Bake at 350 for 15-20 minutes or until a toothpick inserted near the center comes out clean. Cool on a wire rack and cut into bars.