White Chocolate Blueberry Scones
diner524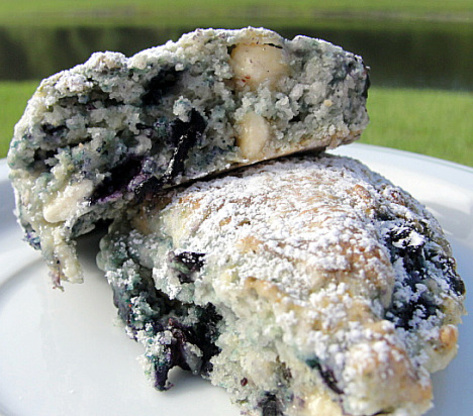 I haven't try this one myself yet, but it sounded so good I just had to post it!

I love the taste of this recipe but I continually fail to make it right. My scones are bricks and they take at least 1/2 hour to bake. I have replaced all my baking supplies. I lightly mix the scones. I don't handle or roll the batter. I bought official buttermilk. Please help me!
Preheat oven to 375 degrees F.
In a large bowl combine flour, baking powder, salt and sugar.
Cut the butter into this mixture until mixture is crumbly.
Add white chocolate chips and blueberries, and toss with the flour mixture.
Add buttermilk and mix until ingredients hold together.
Place dough mixture on a floured surface and pat into a 9 x 9 inch square.
Cut square into thirds.
Then cut each third into three triangles and place 1 inch apart on a cookie sheet.
Lightly dust each scone with powdered sugar.
Bake for 10 minutes and then transfer scones to cooling racks.