White Chocolate Apple Muffins
Annacia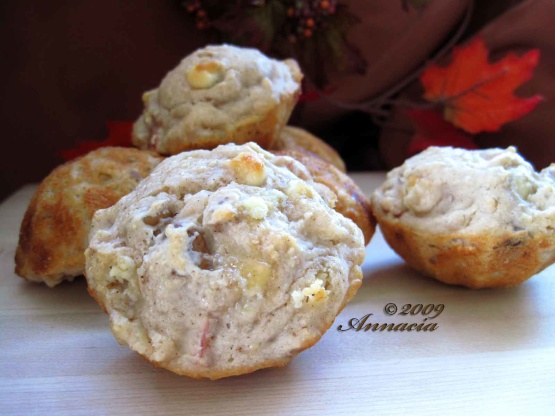 healthy, low-fat muffins with some white chocolate chips for sweetness. super easy to make!

Mmmmmmm. I made a 3 muffin amount of the recipe and got 6 lovely regular sized muffins. For myself I used apple pie spice in place of pumpkin, Splenda in place of honey and reducing the chocolate by a third. The muffins are very moist and yummy and the kitchen smells wonderful while baking. Whats not to love about a muffin right out of the oven with a small pot of oolong tea?
1. Place oven rack on second row. Preheat the oven to 375°F.
2. Mix the dry ingredients together in one bowl.
3. Mix the wet ingredients together in another bowl.
4. Slowly add the dry ingredients into the wet ingredients, mixing as you add. The batter might look a little lumpy, but that is normal.
5. After the wet and dry ingredients are thoroughly combined, add the chopped apples, walnuts and white chocolate chips. Mix the together until there are apples, walnuts & chips throughout the batter.
6. Grease large-sized muffin tin with non-stick cooking spray (grease 2 pans for smaller sized muffins). Divide batter evenly through the tin for 6 large muffins. Place in the oven and cook for 20 minutes. Flip over on to cooling rack, they should slide out easily. Enjoy them warm or cool!