White Chip Pumpkin Spice Cake
Delicious spice cake with the addition of white chips and crystallized ginger.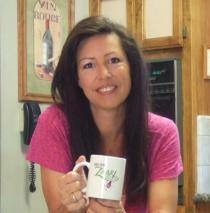 This cake is the Bomb!!! If you like spice cake or carrot cake you will love this one. It was so moist it practically melts in your mouth. I especially love the cinnamon Glaze which truly compliments the flavor... I added finely chopped toasted walnuts to mine and it gave it a nice taste as well. Thanks for posting! I have this on my Thanksgiving menu. Hugs ~V
Preheat oven to 350. Grease 12 cup bundt pan.
Combine cake mix, eggs, pumpkin, evaporated milk, and oil in large bowl. Beat at low speed until moist, beat at medium speed for 2 minutes.
Fold in vanilla chips and crystallized ginger. Pour into bundt pan.
Bake 45 minutes. Cool 25 minutes, invert on serving dish and drizzle with half of cinnamon glaze. Serve with additional glaze.
Cinnamon Glaze:.
Heat evaporated milk just to a boil. Remove from heat and add vanilla chips. Stir until smooth. Add cinnamon.