White Chip Chocolate Cookies (Toll House)
Keilty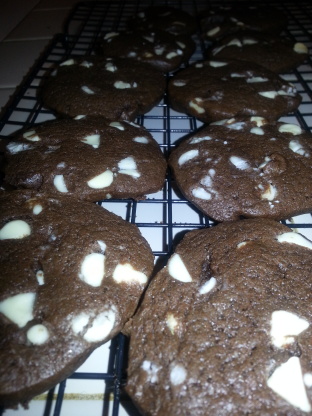 I got this recipe off of the Nestle Toll House White Chocolate chip bag. There was a similar recipe on recipezaar but the poster had reduced the amount of cocoa powder by a considerable amount. This, in my books, is sacrilege! The more chocolate, the better. The cooking time is for one cookie sheet.

Wonderful cookies! The dough is very thick and stiff and you need a little elbow-grease to incorporate both the flour mixture as well as the chocolate chips. But it is all so worth it! I used tablespoons as a measure and got 47 cookies which baked for 10 minutes in my oven. They do not spread very much but stay a little puffy and flattens down after cooling.
When right out of the oven (they smelled so good I just had to try one immediately) they are a little cakey but after proper cooling they are crisp on the edges and chewy in the center.
I am very pleased I tried these and will certainly make again.
Thanks for posting.
Preheat oven to 350.
Combine flour, cocoa, baking soda, and salt in a small bowl.
Beat butter, granulated sugar, brown sugar, and vanilla extract in large mixing bowl with an electric mixer.
Add eggs one at a time, beating well after each addition.
Gradually beat in flour mixture.
Stir in white chocolate chips.
Drop by well-rounded teaspoons (I did tablespoon measures and got 48 cookies) onto ungreased baking sheets.
Bake for 9-11 minutes.
Let cool on baking sheets for 2 minutes.
Transfer to wire racks and let cool completely.