Pismo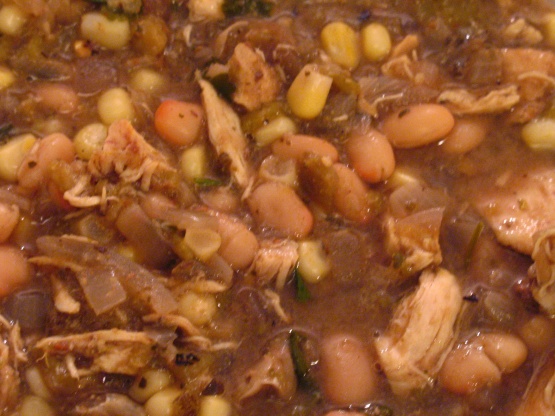 Another great crock pot recipe for a cold winter's evening after a long day at work. Add more red pepper sauce for an extra kick.

Many thanks for sharing this! Really, really good stars are awarded based on our modifications:

1. Use dried beans but soak them overnight first OR precook by putting 1 cup beans in saucepan with three times the volume of water. Bring to a boil and boil for 1 - 2 minutes. Remove from heat and let sit for 1 hour, drain and add to crock pot.
2. Used a tablespoon of Chulua (sp?) sauce and more salt than called for. Seasonings tend to cook down in a slow cooker so it's important to make sure the dish is adequately spiced. Also added Mexican blend of spices.
3. Cooked on high for 4.5 hours before adding corn, lime juice etc. (even though we had precooked the beans)
3. Removed chicken from the bone but did not shred. We are a chunk family rather than a shred one.
4. Served each bowl topped with 2% Mexican 4 cheese blend and a dollop of plain Greek yogurt (no sour cream on hand). The yogurt/chili contrast was the best part--really brought out the flavor--yumm.
Remove fat from chicken.
Mix dried beans (if using canned beans, add them at the end of cook time) onion, garlic, broth, cumin, oregano, green chilies, salt and pepper sauce in a 4 to 6 quart crock pot or slow cooker.
Add chicken.
Cover and cook on high if using dried beans or low if using canned beans for 4 to 5 hours or until juice of the chicken is no longer pink when thickest pieces are cut.
Remove chicken.
Using 2 forks, remove cooked chicken from bones and shred.
Return shredded chicken to the crock pot.
If using canned beans, add them, corn, lime juice and cilantro to the crock pot.
Cook on low for 15 to 20 minutes or until additions are hot.