Ingy1171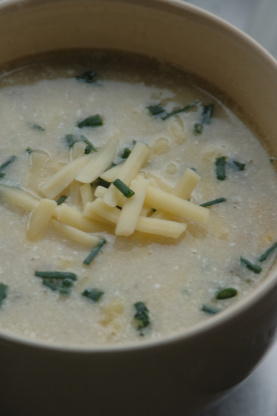 This is a nice switch from "red" chili, and really tastes good on a cold day. It can be made with leftover turkey, so keep that in mind with Thanksgiving coming!

I loved this soup and so did my sis, brother, & brother in law. I used Hot Sliced Jalapenos with the chilies and it zested things up. Definately will make this again with out changing much. I didn't have any cumin and you couldn't even tell. Oh I also only had i can of Hommity corn and that worked out great.
Brown hamburger.
Saute celery, onions and garlic in a little butter.
Mix all ingredients together in stockpot and simmer for about an hour.
Just before serving, add sour cream and heat until warm.
Serve with grated cheese on top.
I have done this in my large crockpot, adding the sour cream last& it works great.
We like things a little spicier, so I use 3 or 4 cans of green chilies.
I also serve the soup with salsa and chips for each to add on their own.