PaulaG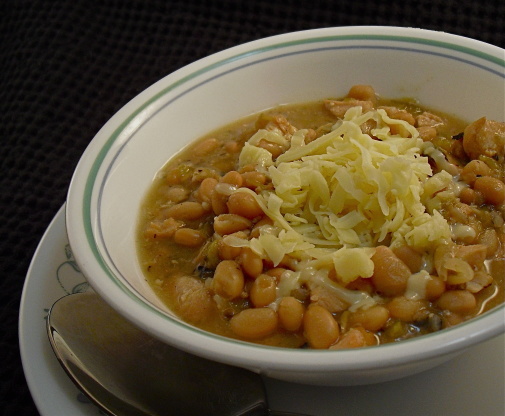 a family recipie can be cooked on the stove or in the crock pot

This has really good flavour as I used fresh cilantro. I did this on the stove top and used different sorts of chicken pieces but think it would be better with chicken breast cut into cubes. I used my own homemade chicken stock and left out the canned green chillies as I didn't have any. I used navy beans cooked from dry, and cayenne for the red hot pepper in about half the amount (we don't like spicy). I can imagine this would be excellent with the cheese.
Stove Top:.
saute first 4 until onion is clear and chicken is done.
heat together next 7 in a seperate pot and simmer 20 min.
mix in chicken and simmer 10 more minute.
Crock Pot:.
combine in crock pot and cook on low 7-9 hours high 3-4 hrs.