loof751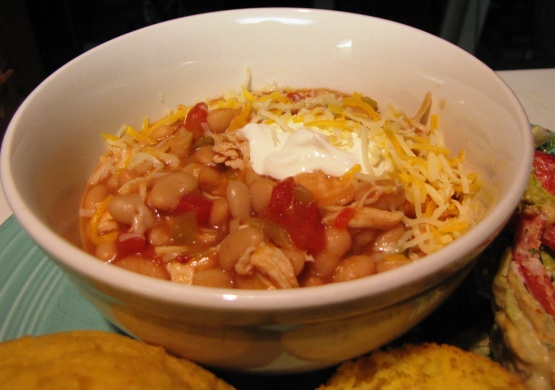 This taste just like the one Ruby Tuesday restaurant makes. Off the can of Bush Beans Great Northern Bean can with a couple modifications. This is just incredible!

Great light chili! I love cumin and it's flavor really came through in this. I left out the onions and used a generous amount of crushed red pepper flakes. This was quick and easy to make too - a great weeknight meal - thanks for sharing the recipe! Made for Spring PAC 2009
In large skillet, cook onion in oil until transparent. Add chilies, flour and cumin. Cook and stir for a couple minutes. Add beans, diced tomatoes, chicken broth and crushed red pepper flakes. Bring to a boil, reduce heat and simmer until thickened. Add chicken and cook till hot.
Garnish with some cheddar cheese or a tad of sour cream.