Paguma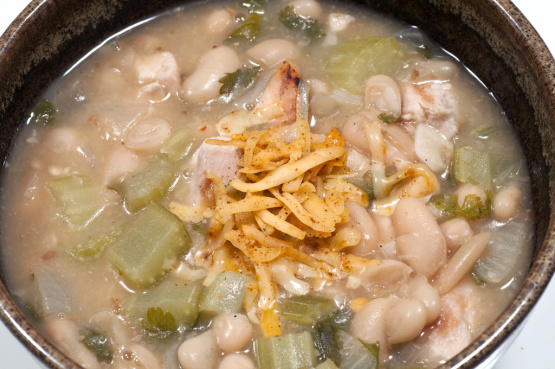 This is a personalized version of a recipe found in "Taste of Home's Quick Cooking". It is a variation on traditional tomato-based chili, combining tender chunks of chicken and white beans with a nice southwestern zing!

I thought this recipe came out exceptionally well, and that doesn't take into account that it should do even better with a day's marriage under its lid. I didn't mess with the basic recipe too much, but as there are only two of us in the house these days, I lessened the beans by one can. For topping I used some sliced black (but not the bland tinned variety) olives, and some horseradish cheddar, which I accidentally found in the cheese section and who's name suggested itself to me as a great candidate for eating with a chicken chile. Both additions worked out quite well, but I think this recipe lends itself to any adjustment you might personally prefer. I'll make it again, and invite you over.
In a large saucepan, cook celery, onion, jalapeños, and garlic in oil until tender. Stir in broth, beans, parsley, cilantro, lime juice, cumin, and cayenne pepper (optional); bring to a boil. Reduce heat; cover and simmer for 10 minutes, stirring occasionally.
Combine cornstarch and water until smooth; stir into chili. Add chicken. Bring to a boil; cook and stir for another 2 minutes or until thickened.
Serve with shredded cheese and sour cream (optional).
ENJOY! :-).
Note: A deli rotisserie chicken works great with this recipe. It's already cooked so all you need to do is pull the meat from the bone and shred it with a fork before adding.