PaulaG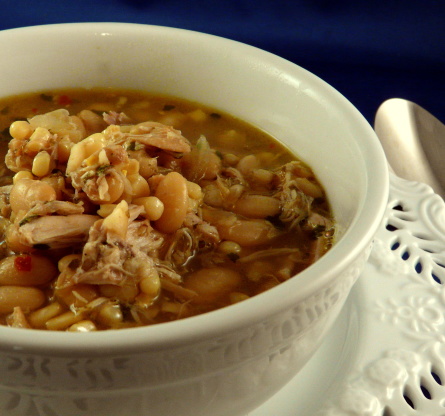 This is another family favorite. This uses bone in chicken thighs, but you can used boneless thighs if you want to. I like the flavor of the dark meat in this chilli, but you can use white meat if you want. From Betty Crocker.

Made for Recipe Swap #18 Aus/NZ. This defininitely is comfort food! I did make a few changes but nothing that would change the outcome of the recipe. I had a turkey breast in my freezer that needed to be used so I cooked it ahead of time in my crockpot because I also wanted some cut up turkey for my lunch. I also cooked this on top of the stove because I'm gone too long during the day to really use my crock pot with good results. I used 12 ounces of cut up turkey and 3 cups of chicken broth instead of a 14 oz can and everything else was the same. The family enjoyed it and gave it "thumbs up" Another soup to add to my repetoire! Thanks for posting this Ms Sally!
Remove as much fat from chicken as possible. Place chicken in bottom of cockpot. Mix onion, garlic, broth, spices and red pepper sauce. Pour over chicken and cook on low 4 to 5 hours or till chicken is done.
Remove chicken and cool slightly. Strip chicken from bones with two forks and roughly chop.
Add back to broth mixture in crock pot and add remaining ingredients.
Cover and cook on low another 15 to 20 minutes.