cyaos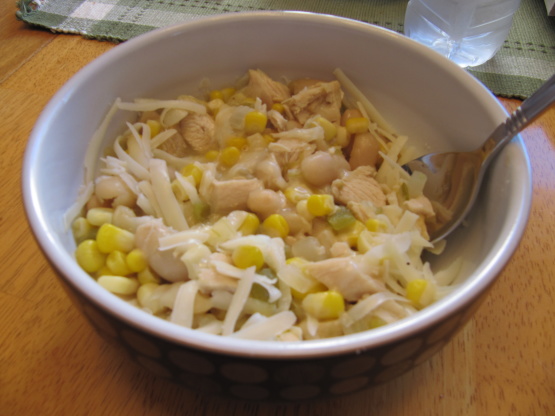 My husband absolutely loves this recipe! He says it's better than the old traditional style!!! I love it because it's low in fat and calories! This recipe serves four, so you can double the recipe if you need more. This is also really good with sweet cornbread.

Top Review by cyaos
This was really quite good although I enjoyed it more than my boyfriend did. I put in three garlic cloves and used frozen corn instead of canned corn as I have an aversion to canned corn. In accordance with other reviews I did drain and rinse out the beans. I will make this again, especially as winter rears its ugly head. Thanks for posting!
In a medium to large size pot, combine chicken broth, ground cumin, lemon pepper and olive oil. Bring to a boil.
Add chicken and bring to a low boil then reduce heat to low, cover and simmer 20-30 minutes or until chicken is done.
Remove chicken from broth and cut into bite size pieces. Return back to broth.
Add the garlic, onion, corn, green chilies, lime juice and beans to the broth. Return to a boil.
Simmer until thoroughly heated, about 45-60 minutes.
Pour into bowl and sprinkle with cheese.