White Cheddar Mashed Potatoes
loof751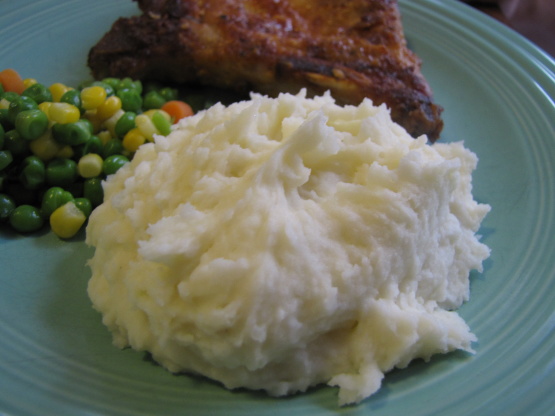 This recipe is from the Rock Bottom Brewery restaurant in Portland, Oregon.

This is a yummy variation on standard mashed potatoes. I did not add all of the sour cream or heavy cream, and used a hand masher. They turned out smooth and rich...very good!
Cover the potatoes with water in a large saucepan and add 2 tsp salt. Bring to a boil and cook until potatoes are tender, about 20 minutes (check with fork). Drain well.
Place the hot potatoes in a large mixer bowl. Using an electric mixer, beat until smooth. Add the butter and sour cream and whip for 20-30 seconds. Add the remaining 1 tsp salt, white pepper, and cheddar. Whip to incorporate. Add the cream and whip until the potatoes are smooth.