vrvrvr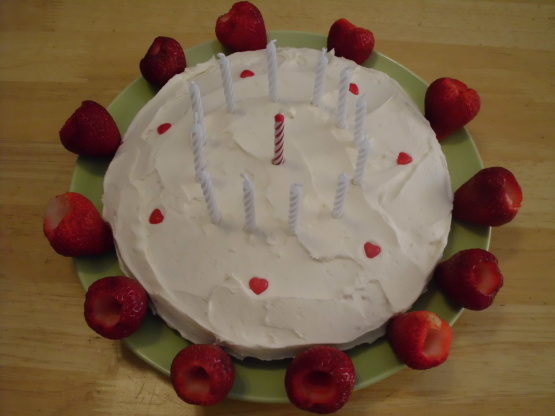 Top Review by vrvrvr
This is a lovely cake! I made two (single layer) cakes, both with buttercream frosting. One had a dusting of cocoa powder, the other was decorated for Sunday School class, to celebrate the end of the school year and Pentecost. For the cake, I only had 3 eggs, so I added 1 whole egg and then beat 2 egg whites. I also reduced the sugar to 1 and 3/4 c. It baked up nicely and removed easily from the pans, which I lined with parchment. Honestly this cake is even more delicious the next day. It reminds me of wedding cake. It is moist and delicious. I'd never made a white cake before, but I would definitely use this recipe again! Thanks!
Sift flour and baking powder together.
Cream butter and sugar together. Add dry ingredients and water alternately, starting and ending with dry. Add vanilla. Remove from mixer.
Fold in egg whites carefully.
Bake in 2 8" cake pans (do not grease pans) at 350F for 30 minute.
Top with Seven Minute Icing.