White Beans With Vegetables
Chef*Lee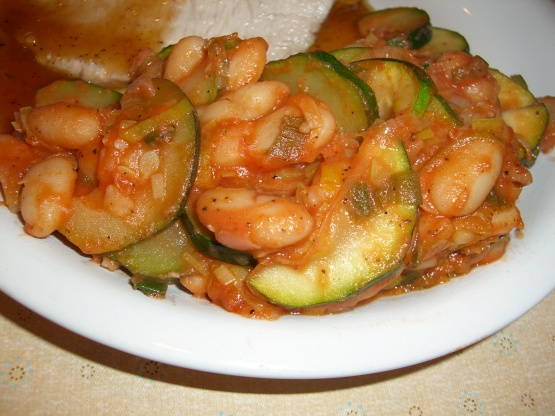 Translated from "Atrévete a Cocinar con Karlos Arguiñano". Note: Spring onions are much bigger in size in Spain than in the US. I saw them in an American grocery store once labeled "knobby onions". They're about the size of a small onion, available year-round, and depending on the season they can be either extremely acidic or suitable enough to sprinkle raw on a salad. Though they look young and tender with verdant shoots and glowing white bulbs, they still make my eyes water to chop. You might want to use several (4-6) North American green onions, or just use a an ordinary white onion. Also, only the white part of the spring onion is used. The recipe says just to use "un bote en conserva" of beans (a can or jar cooked), and the jar of beans in my fridge is net weight 570g so that's what I put.

I really enjoyed this!!! I thought it would be tasty so I made a big batch of it. I used 2 drained cans of cannellini beans, 2 zucchini, 3 scallions, the leek, and I used a whole 8 oz can of tomato sauce. Seasoned with salt and pepper each time I added ingredients. I love these ingredients, thanks for the recipe!!!
Peel and dice spring onion. Clean the leek and chop into fine disks.
Cut the zucchini in half lengthwise and slice, making "half moons".
In a large frying pan, heat olive oil, add all vegetables (except beans), cover and cook on medium heat for 8 minutes.
Open jar/can of beans and add to frying pan. Add also tomato sauce and one pinch of salt. Stir gently until heated through and serve.