White Beans, Sausage, & Kale Stew
rpgaymer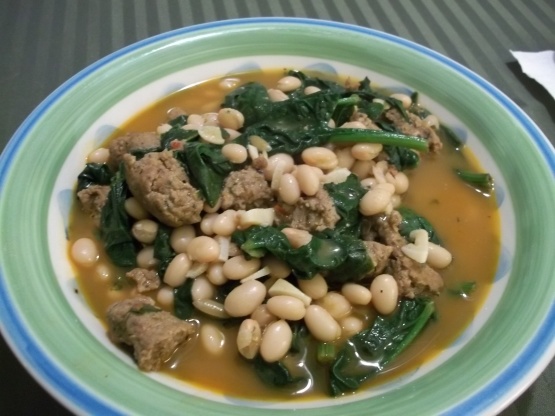 Kate Sherwood's recipe from the March 2012 issue of Nutrition Action Health Letter. Quick. Easy. Tasty. Until my grocer offers Italian turkey sausage, I use the regular Italian sausage -- hot or mild; my photo uses hot. Per 2 cups serving based on Italian turkey sausage: Calories 370; Total Fat 15 g; Sat Fat 3 g; Protein 22 g; Carbs 39 g; Fiber 10 g; Cholesterol 35 mg; Sodium 450 mg.
This made a really great, low-cal meal. I used a pound of homemade turkey sausage and spinach, but otherwise kept everything the same. I thought there wasn't going to be enough flavor in the stew, but it was just right actually. I did add salt though. Thanks for sharing this :) [Tagged, made & reviewed in Please Review My Recipe]
1⁄2 lb Italian turkey sausage

2

tablespoons extra-virgin olive oil

5

garlic cloves, sliced

2

(15 ounce) cansno-salt-added white beans, do not drain

1

tablespoon balsamic vinegar, more to taste
Remove sausage from its casing and break into bite-sized pieces. Sauté in the oil until browned, about 5 minutes. Remove from pan and set aside.
Sauté the garlic until just golden, about 1 minute. Add the beans with their liquid and stir in the kale, a few handfuls at a time.
Simmer until the kale is tender, about 2 minutes, add more water as necessary to the beans moist.
Stir the sausage back into the pan with the beans and kale.
Season with black pepper and the balsamic vinegar.