ImPat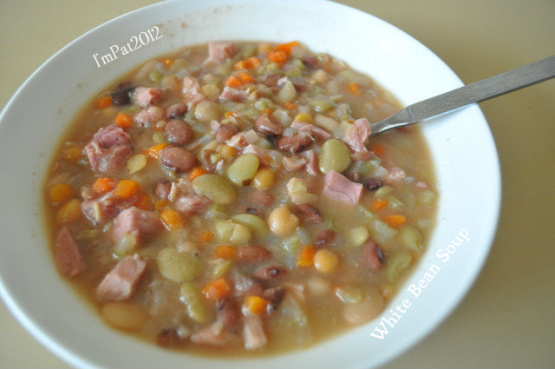 Top Review by ImPat
OMG wish I could rate this higher than 5 stars for the flavours alone that came from the smoked hock, I used a four bean mix and as I only had 1 cup of celery I added a 1 cup or finely diced carrot and I did have to add some extra water after the first 2 hour simmer for when I added the vegies I would have ended up with a stew rather than a soup but it was so filling for lunch (the next day on reheat and the rest - 7 cups of soup was put in the freezer) a meal with a crusty roll and pure comfort food.on a cold winters day. thank you JustJanS, made for Make My Recipe.
Cover beans with water in large pot or soup kettle and soak overnight.
Rinse beans well and return to pot with ham bone and 3 quarts of water.
Simmer, uncovered, for 2 hours.
Add parsley, onions, garlic, celery and tops, salt and pepper.
Simmer, uncovered, for 1 hour or until vegetables are tender.
Remove ham bone, dice the meat, and add meat to soup.
Serve hot.