3 Reviews
This smells wonderful while it cooks. The whole family was commenting on it. And it tastes amazing. I was wowed when I tasted this. I was short of time so I used a 28 oz can of cannellini beans. I had 4 cups of homemade chicken stock so that was the amount I added. I added all the ingredients, except olive oil and Parmesan cheese and cooked it for 30 minutes. The rosemary leaves came off the sprigs, so next time I would put them in cheesecloth. This is definitely going in my best of 2014 book!
I love this soup!!! I admit to taking a shortcut, though. I bought canned beans (one can of pinto and one can of northern), so I skipped the whole soaking part. This soup will be in my regular soup-making rotation and I think I'm going to pop it into my best-of-the-best file for that reason. It's healthy, it's easy and it's full of flavor becasue of the fresh herbs. What more could a girl ask?! The only other change I made was to use vegetable broth instead of chicken. Made in memory of Pammyowl.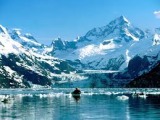 This is really easy, very tasty, light, brothy soup. Practically fat free. I subbed a fistful of baby spinach that needed using for the tomatoes. I used veggie stock so it would fit the vegetarian tag. Made for Sun & Spice event in the Vegetarian & NA/ME forums 2/13.
White Bean Soup