PanNan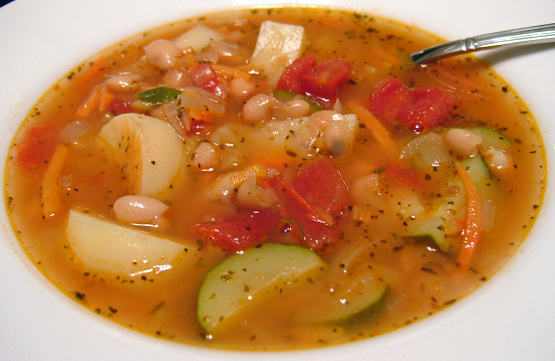 A healthy, fast and delicious minestrone from Fitness magazine.

A bit bland. I added some chopped garlic, basil (paste) and tomato paste. When soup boils, simmer, and take @ 2 cups of the liquid + veggies out of the pot & puree in blender. Put puree back into soup pot with soup, stir & simmer for 15 min more. Makes a hearty veggie soup
Cook onion, celery, and carrots in oil, over med-high heat in a large saucepan, stirring occasionally for about 4 minutes.
Add 2 cups water plus all remaining ingredients, except for cheese.
Cover and let boil, reduce heat and simmer for 10 minutes, or until the potatoes are tender.
Sprinkle Parmesan on top and serve.