White Bean and Roasted Vegetable Spread
DuChick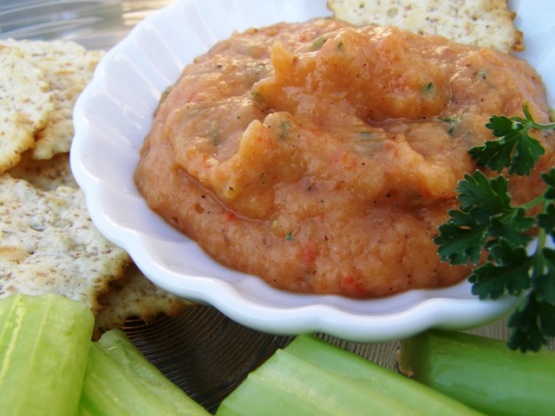 Great recipe! This spread is surely not for everyone's tastes, but it's so very healthy and creamy for those who like "pure" food. I've also added a new skill to my culinary repertoire...skinning roasted red peppers! We liked this both warm and after being refrigerated. The flavors melded a bit more the next day and is great on crackers and fresh veggies. MERP'd for My 3 Chefs '08.
Line a cookie sheet with aluminum foil and place the pepper and onion in rows on the foil.
Broil the vegetables for 5-7 minutes or until slightly charred, and remove the cookie sheet from the oven.
Flip over the vegetables, add the cloves of garlic to the cookie sheet.
Return the cookie sheet to the oven and broil an additional 5-7 minutes to slightly char the other side.
Allow the vegetables to cool slightly and then gently remove the skin from the peppers.
In a food processor or blender, place the roasted vegetables, white beans, lemon juice, salt, and pepper, and process until smooth.
Add the parsley and process for an additional 30 seconds to thoroughly incorporate it.
Transfer the mixture to a glass bowl.
Use as a spread on crackers, bread, or sandwiches, or serve with raw vegetables.