GinaS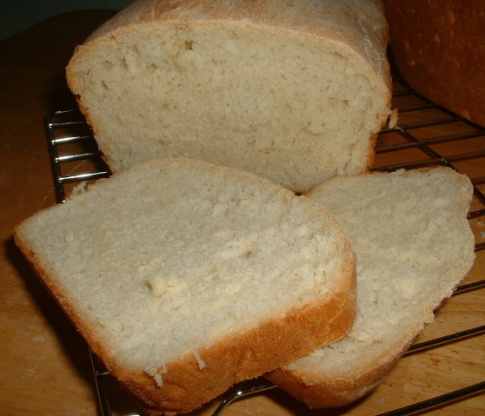 This simple recipe will give you 2 beautiful, delicious loaves of bread. Try it warm with butter and jam, WOW!! Prep time is the rising.

Top Review by deb k
This is my mom's recipe that I have lost and it is only fitting that Inez had it (you are a wonderful cook dear and my mentor in the kitchen!) I love this bread, especially for stews and soups. It makes the greatest toast. Thank you for sharing ;-) Even people who can't cook can't go wrong with this recipe.
Dissolve yeast in water, in a large bowl.
Add half the flour, and the sugar, salt,and shortning.
Blend at low speed, then beat 2 minutes at med speed.
Mix in remaining flour by hand.
Cover and let rise until doubled, about 45 minutes.
Stir the batter hard for 30 seconds.
Spread into 2 8in greased loaf pans (batter will be sticky).
Let rise until doubled, about 20 minutes.
Bake at 325* for about 45 minutes, until golden brown and done.