White Balsamic Vinaigrette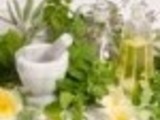 The Safflower oil combined with white balsamic gives; this dressing a light wonderful taste.
Directions
Combine all ingredients together.
Slowly whisk in the safflower oil.
Tip:.
It really is worth buying this special oil for your dressings.
Garlic Plus is a seasoning made by Club House to add a extra zing to your recipes.
Most Helpful
I chose this recipe to use up some white balsamic vinegar that I had sitting around in my cupboard! I made this up to the T and found that it was OK....nothing special! I would need to vamp it up a bit more for me to use this one again!!
This will be on my table a lot. You are right that the safflower oil really makes a difference, and it's healthier too! Thank you.

this was wonderful. so tastefull, everyone loved it and couldn't believe that I made it myself - thanks for the easy tips