White Balsamic Fruit Salad
Mandy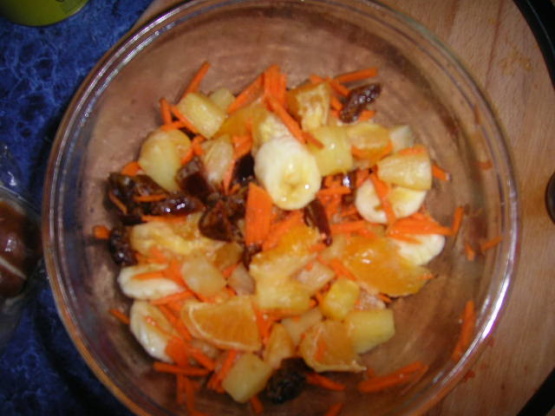 Some time ago I bought white balsamic vinegar. I use a lot of dark balsamic vinegar and thought it would be nice to see what I could make with the white. Somewhere I read that fruit goes well with this. Tried it and this is the result. Quite nice if I may say so myself.

Top Review by Mandy
I had this for lunch today & this was great. I only used 2 tsp honey and left out the zest. I served it with some vanilla yoghurt for a healthy & nutricious lunch. My 20 month old daughter enjoyed this too & even ate the carrots!!!!! Thankyou Chef Dodo, I will be making this again as I always have these ingredients on hand.
Combine pineapple, dates, carrot, orange and in a large bowl.
Combine honey,balsamic vinegar, lime juice and zest in a jar with a tight-fitting lid.
Shake vigorously and pour over fruit.
Chill until ready to serve.