Whiskey Smoked Salmon Spread
Prep 1 hr 10 mins
Cook 0 mins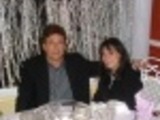 This is a delicious dip/spread that is great on a bagel. Or, if you are hosting a brunch, you can serve it on mini bagels garnished with some cucumber slices. Of course, if you don't like or drink whiskey, you can substitute milk in its place.
Directions
In a medium bowl, combine cream cheese, whiskey, lemon juice, horseradish, and dill.
Beat until creamy and smooth.
Stir in salmon and scallions.
Transfer to a small serving bowl and cover.
Chill in the refrigerator for a minimum of 1 hour or as much as 48 hours.
Before serving, let stand at room temperature for a least 15 minutes to soften and become easily spreadable.
Most Helpful
I love the whiskey vapors in my mouth from this. It is VERY tasty and easy to make. I forgot the scallions, oh well. I added some plain yogurt which made it a great consistency for dipping.

Made this recipe for PAC 2010. Very easy to make and tasty. Will make again.

Really lush tasting stuff! I cut the batch in half and had it piled high on a toasted bagel for lunch today. I used fat free cream cheese and dried onion flakes instead of the scallions. Which is something I normally do because I like the background taste of onion but not the sharpness of raw onion. It tasted great and with just a little bit of tang. Made for Everyday tag..