BecR2400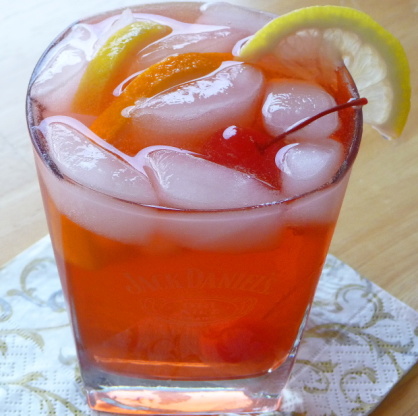 An old-fashioned whiskey cocktail. This is the way we like ours -- fruity with a dash of bitters, soda, and plenty of rocks! Be sure to use a good bourbon. Bottoms up! Enjoy! From eHow. History (taken from about.com): The Old-fashioned is a classic whiskey cocktail that has been served since around 1880 at the Pendennis Club in Louisville, Kentucky and is (disputedly) the first drink referred to as a cocktail. It is the perfect ideal of what a cocktail should contain: a spirit, a sweet, a bitter, a sour and water. Typically, the Old-fashioned is made with bourbon, however you can experiment with other types of whiskey for an equally excellent drink. Have a light old-fashioned with Canadian whiskey or one that's more sour with a Tennessee whiskey. Club soda is often used to top off this drink, but this is not a traditional method.
I'm from Wisconsin and grew up loving old fashioneds. my dad made the best and taught me how he made them. I tended bar for a while and one evening I made old fashioneds for a couple who came in. They called me over after I had served them and they'd finished their drinks to tell me "that was the best old fashioned I've ever had". the secret is the bitters, some bartenders don' use it and it makes a bland old fashioned without it. I never use lemon. it's not in the recipe for the Wisconsin old fashioneds. try it, you'll love it.
1 1⁄2-2 shots bourbon whiskey

1

teaspoon sugar, to taste

1

dash Angostura bitters
1 1⁄2-2 ounces club soda

1

orange slice

2

tablespoons maraschino cherry juice (from the jar)
ice
First you will want to grab a cocktail or rocks glass to mix your drink into.
Then, place a slice of lemon, orange, and a maraschino cherry into the glass.
Pour about two tablespoons of the maraschino cherry juice in with the fruit.
Next you will want to add about a spoonful of sugar.
Once the sugar is in the glass, pour in some club soda. You will only want to add about 1.5-2 ounces.
Next add just a dash of bitters, it's the secret to a good old fashioned.
Once you have reached this point in the drink where there is fruit, sugar, club soda, and bitters you are going to want to stir and mesh up your fruit in the bottom of the glass to release and mix the juices.
Once you have thoroughly mixed and meshed the juices, fill the rest of the glass with ice.
Now it is time to add the whiskey. Pour 1.5 to 2 shots of bourbon whiskey into the glass.
Lastly, Stir your drink and ad a lemon slice as a garnish on your glass. Enjoy!