chia2160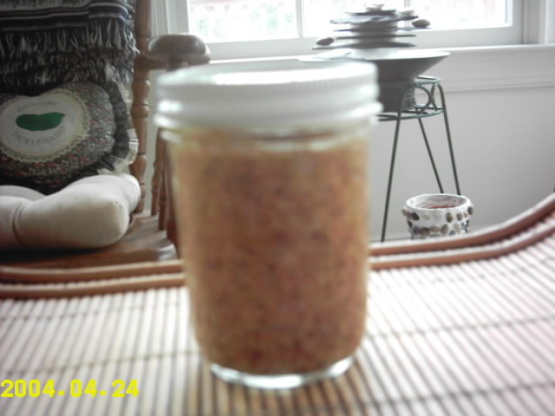 A spicy mustard, but if you want less heat leave out the cayenne pepper. Like the horseradish mustard I posted, this is another no-cook mustard. Good again as a gift for food loving friends. If you want you can do all the mixing in your food-processor. Prep time does not include standing time.

This mustard is HOT and delicious! Complex savoury/spicy/sweet flavour. I'm looking forward to using this in a lot of ways. So far used in a salad vinaigrette and it was a winner.
Grind the mustard seeds to a powder, I use a coffee grinder.
In a ceramic or glass bowl mix the mustard powder with the water and leave for half an hour.
Then add the flour with the cayenne (if using) mix well.
Add vinegar, whisky, honey, nutmeg, salt and mix until well blended.
Cover and leave overnight.
Next day: if it looks too dry add more honey, so far the times I made it it never looked too dry but sometimes too thin and I add another spoon of flour, the mustard will thicken a bit more the next weeks so keep that in mind.
Pour into sterilized jars and seal, allow to mature/mellow for 2 to 3 weeks in a cool dark place.
After opening keep in the fridge.