barb-j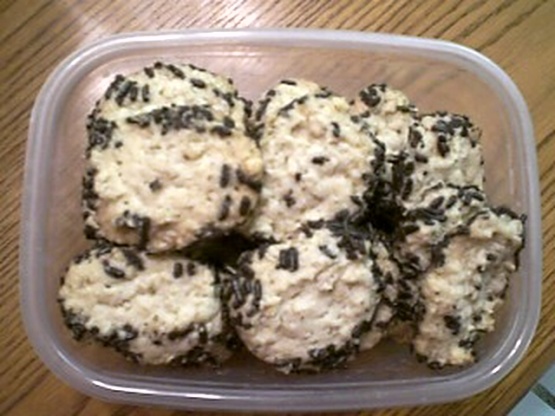 Easy but good cookies. These were one of my Mother's favorites. We had them every Christmas.

this is the exact recipe one of my residents gave me my last Christmas 2004 at F.W.E. after she found out i was moving away to FL.she had no family, she was an Old Maid and was thrilled to be handing down one of her recipes.
we love these cookies and i always make them for the holiday season. thank you for posting this recipe
Cream butter and sugar until fluffy.
Add vanilla.
Add flour mixing thoroughly.
Blend in rolled oats.
Dough will be stiff.
Shape into rolls 1 1/2 inches in diameter.
Roll in chocolate shot.
Slice 1/4 inch thick (a cheese slicer works well).
Place on ungreased cookie sheet.
Bake 325 degrees for 25-30 minutes.