Whipped Shortbread Cookies
Prep 15 mins
Cook 18 mins

This cookie is so light and tender and just melts in your mouth.
Directions
Preheat the oven to 325 F and prepare baking sheets by lightly greasing.
Cream the butter and icing sugar until light and fluffy. Beat in the cornstarch, vanilla and flour. Beat the mixture until all of the ingredients are thoroughly combine, and the batter is fluffy.
Stir in the chocolate chips, if using, then scoop the cookie dough onto the cookie sheet using a small scoop. Place onto prepared cookie sheets about 1" apart.
Bake for 18 - 20 minutes, or until the edges are a light golden brown. Let cool on racks before storing in cookie tins.
Reviews
Most Helpful
So good, will definitely make these again. I prefer them to the traditional heavy shortbread version.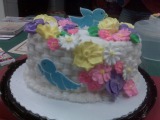 Wow, I loved these cookies and so did my friends. I took them to a potluck and they were devoured before any other dessert. Needless to say, I received may recipe requests.
Worst shortbread cookie recipe I have ever tried - cookies came out like skin patch used to stop smoking - no flavour - waste of 1 lb of butter - going back to my old recipe.