Chef*Lee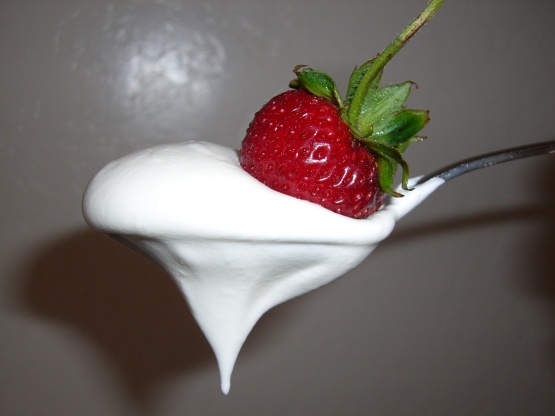 My grandma does not allow cool whip in her house and this is a simple recipe she has always used. Adjust the sugar and vanilla to taste, but the amounts listed are a good place to start. The imitation vanilla will make the topping taste a little bit more like cool whip if that is what you are going for.

Your grandma is very smart not to allow Cool Whip into her house because it is full of horrible hydroginated oils. This is the way my grandma always made whipped cream and the way I always make it. It tastes a billion times better than Cool Whip when you use real whipped cream and it only takes a few minutes to whip! Thanks for posting!!!
Chill bowl and beaters in the freezer for at least 5 minutes.
Whip cream until soft peaks form.
Add sugar and vanilla.
Whip mixture until stiff peaks form.
Recipe makes enough to cover a 9" pie.