Brenda.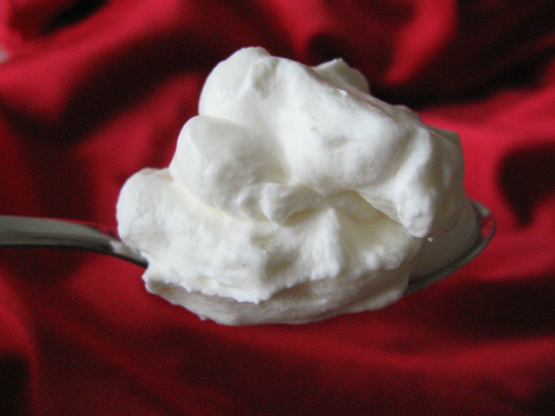 Just a basic recipe for delicious, homemade whipped cream! Adjust the amount of powdered sugar for your taste.

Top Review by J-Lynn
I used this on a special 4-layer chocolate cake; my friend told me that it wasn't necessary to add sugar or vanilla to the whipped cream at all. Instead, the cake recipe called for mixing a whole bag of toffee pieces into 2 cups of cream for the whipped topping and using that mixture to frost the cake. However, I added the powdered sugar and vanilla anyway, because it sounded good to me. I used just a bit less than called for here. And honestly, the whipped topping lacked flavor, even with the toffee in it. Next time I will use slightly more than the called-for amount of sugar.
Start with bowl and beaters cold!
In a large bowl, whip cream until stiff peaks are just about to form.
Beat in vanilla and sugar until stiff peaks form. Do not overbeat!