Whipped Chipotle Sweet Potatoes

Directions
Preheat oven to 450°F and line a baking sheet with foil.
Prick potatoes and bake in middle of oven 1 to 1 1/2 hours, or until very soft.
Cool potatoes until they can be handled and scoop flesh into a bowl.
With an electric mixer beat potatoes with chili paste, butter, and salt and pepper to taste just until smooth and spread in a buttered 2-quart shallow baking dish.
Potatoes may be prepared up to this point 1 day ahead and chilled, covered. Bring potatoes to room temperature before proceeding.
Reduce oven temperature to 350°F Bake potatoes in middle of oven until hot, 20 to 25 minutes.
Reviews
Most Helpful
Sweet potatoes with a "kick" - what a delicious idea! After all those "sweet" sweet potato casseroles at Christmas -- this is a great way to kick off the New Year - yes, with a kick. : ) We enjoyed this dish with our New Year's leftovers of cabbage, blackeyed peas and some cornbread. Made for the Football Pool tag game.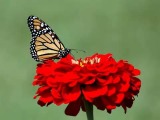 Great way to spice up sweet potatoes! I cut this recipe in half and used as a filling for quesadillas topped with mango salsa and avocado. Amazing combo! Thanks for the post.

different and delicious! Thanks for posting this very different way to do sweets.